Gerry McCann Man




In the case of missing Madeleine we have had a series of ridiculous stories, none more than the stories told by her parents, and their holiday companions. Stories which made absolutely no sense whatsoever, did not add up, not by a long shot. A quick read of their police witness statements (online) and the stories, and interviews they have given since Madeleine's disappearance, would have anyone, anyone at all, with a little grey matter, at the very least, concluding that these people have to be investigated more thoroughly, that their story of the night Madeleine vanished requires to be put to the test, as it does not stand up to scrutiny.


Dr Goncalo Amaral the now retired Portuguese Police detective - who the McCanns are attempting to silence – the ongoing libel action they raised against Dr Amaral to attempt to do just that is not going as planned for them, in fact rather badly thus far – has always insisted that this is a diligence that must be carried out, a re-enactment of the events of that night, the movements of this group of people. The McCanns and their holiday companions ALL REFUSED to return to Portugal to assist police with their inquiries in this regard, in so doing, they ALL FAILED young Madeleine.


Dr Amaral also was concentrating on the sighting by an Irish family. The family have a holiday home in Praia da Luz, and were there on the night Madeleine vanished. They gave police witness statements - they had seen a man carrying a child on that night. Martin Smith senior, described the man as resembling Gerry McCann, carrying a little girl resembling Madeleine McCann, around the time that Kate McCann supposedly discovered her daughter to be missing.


Aoiffe Smith, Martin Smith's young daughter, described the man as wearing trousers with buttons down the side. It is known that Gerry 'Buttons' McCann did have such a pair of trousers which he wore whilst on holiday in Portugal.


There have been many sightings reported of strange men hanging around the McCann holiday apartment, at some time during the holiday, and in particular on the night Madeleine was reported as missing. Which in itself is quite extraordinary as the McCanns tell us there was no one around it was so quiet when they and their holiday buddies were all bouncing back and forth between the tapas bar and the apartments, as they claimed to have been doing. Nevertheless we have had Spottyman, Scaryman, Tractorman, most recently Smellyman, and a whole host of others.


Many press stories, the man behind them was the McCann spokesperson, Clarence Mitchell, or Liar Man, who has told some tall tales to protect the couple. His tales and lies don't come cheap - £70,000 per year - expenses paid from the Madeleine Fund, the Fund which was set up to search for the missing child. I'm sure the public when they first donated never imagined that the monies would be paid to types like Mitchell, teams of lawyers also both in UK and Portugal, and a press agency also in Portugal, just so that the McCanns would have a sense of security and protection - but just what exactly is it that they fear that would warrant them needing the strength of such a formidable team around them, that they would spend the monies donated on themselves, their protection, and not on actually searching for their missing daughter?


Seems to me that lying has been a very lucrative business for Mitchell.


But back to the sighting by the Smith family of the man who looks like Gerry McCann, I will refer to him as Gerry McCann Man.


I name him this simply to save confusion.


The Sunday Express today has an article on McCann case, but unfortunately, though they have included the E.Fits of this man (Gerry McCann Man) it is placed in the article at a spot which could mislead the reader to believe this is the man Scotland Yard, suspect as being responsible for break-ins in several locations in Portugal, and not of the sighting by the Smith family.


So to be absolutely clear, we will refer to the E.Fits as Gerry McCann Man. as these are the E. Fits produced based on the descriptions of the man the Smith family saw, and who Martin Smith believes to be Gerry McCann.


These E.Fits were produced by the McCanns, their private detectives.


Sadly for Madeleine, her mummy and daddy did not allow the world to see them, they kept them undisclosed for a number of years.


The McCanns claim to leave no stone un-turned, in fact that is the slogan attached to their Fund.


Impossible to see why they would do such a thing, keep these E.Fits hidden, unless, that to publish them would result in others thinking also there was a resemblance to Gerry McCann!


The sighting of this man by the Smith family has always been played down by the McCanns, and their private detectives, little was made of it except perhaps to include it in their documentary, but then only to stress that it was not Gerry McCann as he was elsewhere at this time they claimed. And even then in their documentary they portrayed him carrying the child in a completely different manner as the witnesses had described, misleading the viewing public.


Even if we consider that it may not be Gerry McCann, someone, who looks very like him wearing trousers like his, was carrying a little girl just like his, just like Madeleine, at around the time Kate McCann raised the alarm.


Is there someone else in the McCann party who looks like Gerry and who owns or borrowed Gerry's trousers?


Now that I think of it…there are one or two, and those one or two were the one or two who on that night, the night the child vanished, who for the first time in the entire week decided (so they say) to go check on the McCann kids.


Now that is the oddest of things, two guys who decided out of the blue, to go and check on the McCann kids, and nobody, but nobody had done that that week. And on that night the McCanns claim to have left the door open for them! How convenient was that?


One guy, Matthew Oldfield had never met the McCann kids before this holiday. He had seen Madeleine once when she was a tiny baby. He actually told police he had not checked all week for this very reason he did not know them. Oh and the fact that no one was checking on each other's kids - a story invented to cover their asses? The other guy Russell O'Brien barely knew them.


Then lo' and behold, one of these nice men, Russell O'Brien decided not to go in and check the McCann kids. He had checked his own children, discovered one of them had been sick, and had stayed to bathe the child, wash the bedding leaving Matthew Oldfield to check on the McCann kids on his own.


Matthew Oldfield did go into the McCann apartment he told police, but was as useless as a toothbrush to the toothless, he didn't bother to look and see if Madeleine was there…or so his story goes!


That's convenient too!

But was O'Brien busily doing the washing in his own apartment or was he busy doing something elsewhere, say in the McCann apartment? Was he doing some household chores for McCanns, popping the sheets from the cots where the twins slept in the washer, making up Madeleine's bed all neat and tidy?

If we look at the pictures of the McCann apartment, kids clothing all around the place discarded over the backs of chairs. The bed Kate claims to have slept in the night before still unmade. Yet Madeleine's bed, a bed where the child is supposed to have been lying sleeping (before being snatched by?) was all neat?

Now daddy Gerry claims she was sleeping on top of the bedclothes.
And mummy Kate claims she was tucked up all cosy under bedclothes.

Whichever it was, that bed was too neat either way!

So in this untidy apartment, kids clothing strewn across the place, and the only thing that was neat was this missing child's bed, a bed they claim she had slept in?

Kate McCann wasn't sure, if through the dark, she could see Madeleine or the bedclothes she tells us in the documentary - "Is that Madeleine or is it the bedclothes?" But the bedclothes were flat as pancakes, all neat and tidy, one could hardly mistake them with the shape, outline, bulge under the blankets of an almost four year old child sleeping there?


And of course the performance by Kate 'whooshing curtains' McCann – shaking her head from side to side, a negative, telling us she just knew right away Madeleine had been taken. That performance always reminds me of Princess Di trying to act all coy telling the nation 'there were three in the marriage' -three and the rest, some might say!

Will we ever hear Kate say – There were 9 in this disappearance?


But back to the Sunday Express, James Murray, 23rd March 2014. In his article, we have for perhaps the first time, acknowledgement by the UK press, that Dr Goncalo Amaral was more than interested in the sighting by the Smith family, it leaves us wondering why it took DCI Redwood almost 3 years to get round to him, as this sighting is not new!

It leaves us wondering also why Kate and Gerry McCann failed to publish the E.Fits when they were first produced years back. And why they have concentrated on the supposed sighting of a man seen by one of their holiday companions, Jane Tanner. The Portuguese police ruled this sighting out from the start, but the McCanns insisted on plugging it in preference to the E.Fits of McCann Man.


Andy Redwood Metropolitan Police eventually reached same conclusion as Dr Goncalo his team that Jane Tanner's sighting was not of Madeleine being taken, yet the McCanns still have the image of this man on their website?


James Martin
Sunday Express
23rd March 2014


…British officers have pointed out to the Portuguese that a key sighting of a man holding a child in Luz at 10pm, shortly after Madeleine was taken, was not of a black man. Irishman Martin Smith and family saw him.

Former Portuguese inspector Goncalo Amaral was about to fly Mr Smith to Portugal when he was removed from the case. DCI Redwood said last week:
"We still need to establish the identity of a man seen by three witnesses, carrying a child fitting Madeleine's description towards the beach or town at about 22.00 on the night Madeleine disappeared.

"The witnesses have described the man in the e-fits as being white, aged in his 30s, with short brown hair of medium build, medium height and clean shaven." …


And here are the E.Fits of that man - the E.Fits the McCanns kept under wraps for years!








Gerry McCann Man Gerry McCann



Did Martin Smith and his family see Gerry McCann carrying Madeleine on the night the little girl was reported as missing?


Martin Smith believes he did.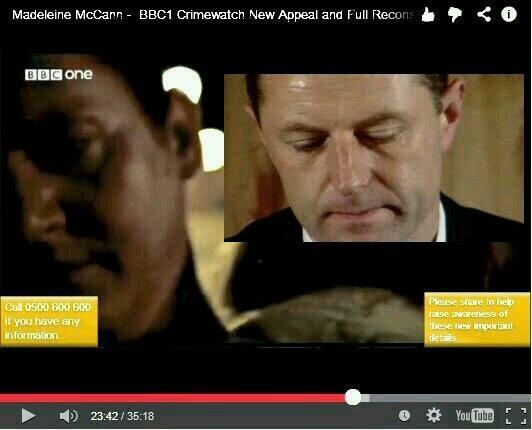 In a previous blog I mentioned how alike the person playing the part of the man the Smith family saw was to Gerry McCann.

On the left is the image which was shown on Crimewatch 2013 the Scotland Yard Appeal. Inset picture is of Gerry McCann.




l-azzeri-lies-in-the-sun.com
23rd March 2014